Awwwww, did you find my twitter posts? You're so clever… here's more samples of one of my long-time stalkers, "Shining" – a transphobic freak of a youtuber who first started bothering me in Fallout 76.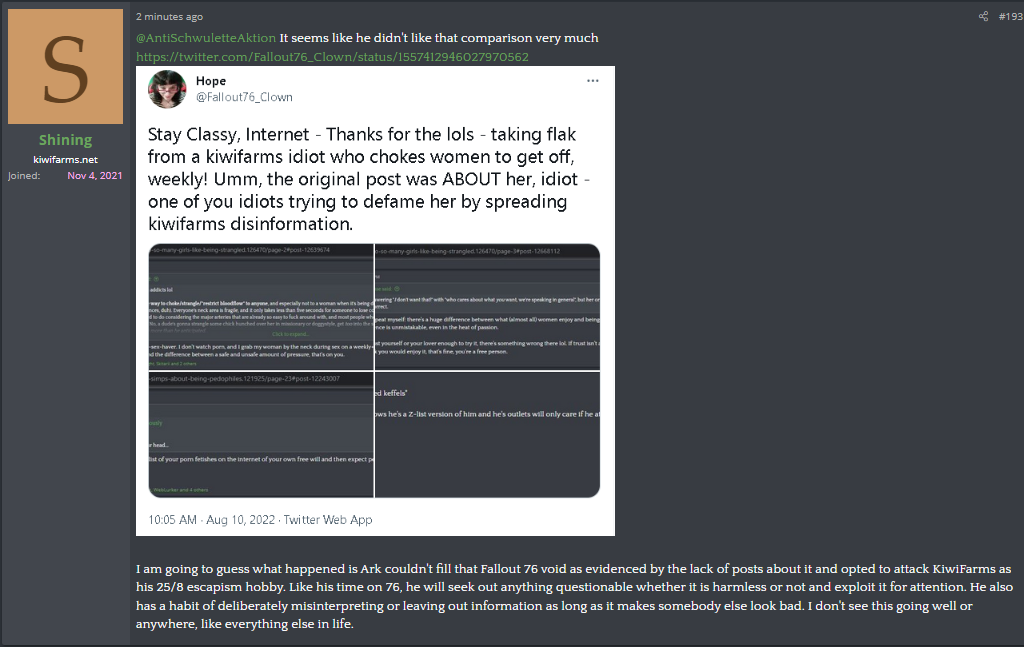 I like how he claims that *I* have a habit of 'misinterpreting things' or 'leaving out information' when him and his friends are posting lies about me on a right-wing hate site  – that also posts my home address – in an attempt to drive me off the internet, or – as was the case recently with another transgender streamer that kiwifarms doxxed and HATES (keffals) – get me and my family hurt from swatting because of these same toxic stalkers from kiwifarms?
It's…. funny in it's own way. So he's sitting there talking about me, with a bunch of racists (I mean, I've already proven a few of them), misgendering me with a bunch of transphobic assholes who like to doxx people (and take pleasure in it, I've also shown posts with that) – and wants people to believe it's NOT a racist right-wing hate site dedicated to harassing transgender people and other marginalized people?
Right – so the racists don't like me, as per usual – I seem to have stirred up some racist and transphobic hornets already, and there's "Shining" as per usual, with his big mouth, joining right in with the racists – while continuing to misgender me – that boy is one sick transphobe!