May 1, 2019
2019-05-01 u/couriersixxx calling a bounty on me, and claiming to be SinisterHand – I never PVP – reddit based harassment:
u/Sinister_Hands claiming no, that's not him – but also confirming he will also pay to have other people harass me: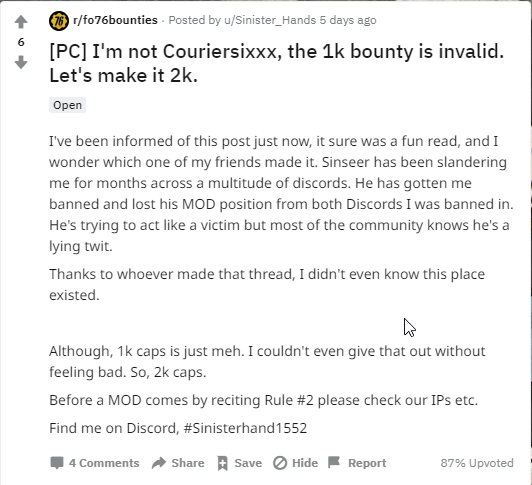 Reddit Responses that show that others know SinisterHand aka SH Games has been sending ' squads' to harass fallout 76 Players and Communities for 'months' at this point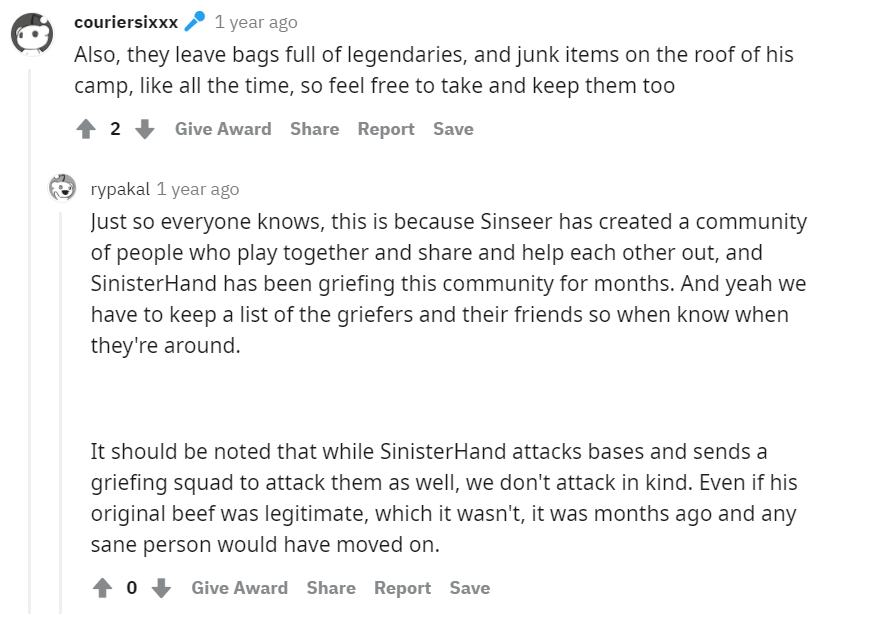 Other people who mentioned that no, I will never ever PVP – so Sinister Hand starts spreading more lies about me via reddit: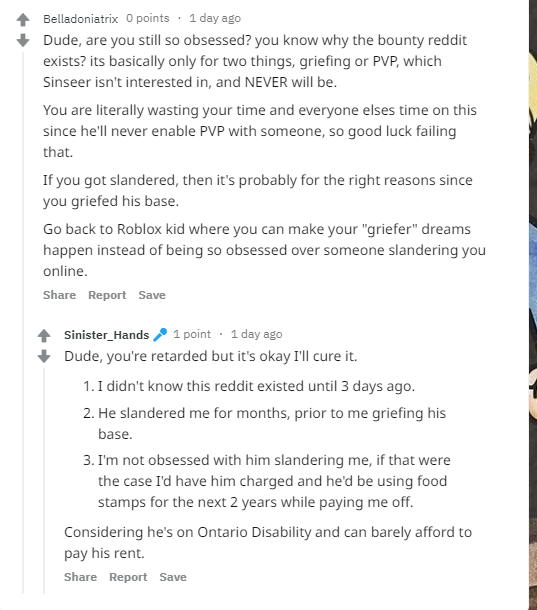 2019-05-01 FIIOSOOF "aka filosoof" visits the Happy House of Joy
2019-05-01 FIIOSOOF "aka filosoof" and Vextroa visit the Happy House of Joy
May 3, 2019
2019-05-03 dawns_elegy of Most Toxic 76 Discord again harasses our #fallout76​ community (Video)
May 4, 2019
My First Campfire Tales – Most of it, anyway
May 7, 2019
2019-05-07 Dawns_Elegy griefing, fallout567's Discord – also heard: fasenn17, Seen: purplepootis609
May 9, 2019
Working on Order of the Tadpole Quests – Operation Tidy – From a live #fallout76 stream
May 12, 2019
2019-05-12 Ooonce and Vivanpresida don't like "fucking fags" – But also Reported again – #fallout76
Free Range Solo Run
May 14, 2019
One Of Us – revisiting the bunker
May 17, 2019
ASuperMutant aka dawns_elegy with Brootpwnz who threatens we're enemies for life
Brootpwnz admits server hopping 15 times to stalk and force PVP and harass in #fallout76
May 22, 2019
aSuperMutant aka dawns_elegy annoys other people in our community – #fallout76
May 24, 2019
cambo09 using unobtainable bottlecap mine
May 25, 2019
aSuperMutant aka dawns_elegy with ZanoldTheSavage stalking our community yet again
May 28, 2019
AnusPounder666 and UnsanitaryForeskin come to use several slurs in Public #fallout76​ Voice Chat – their discord info is below this video.
"pilsnit" – from the above video – one of Sinister Hands Fans – I wasn't real fond of their in-game racism.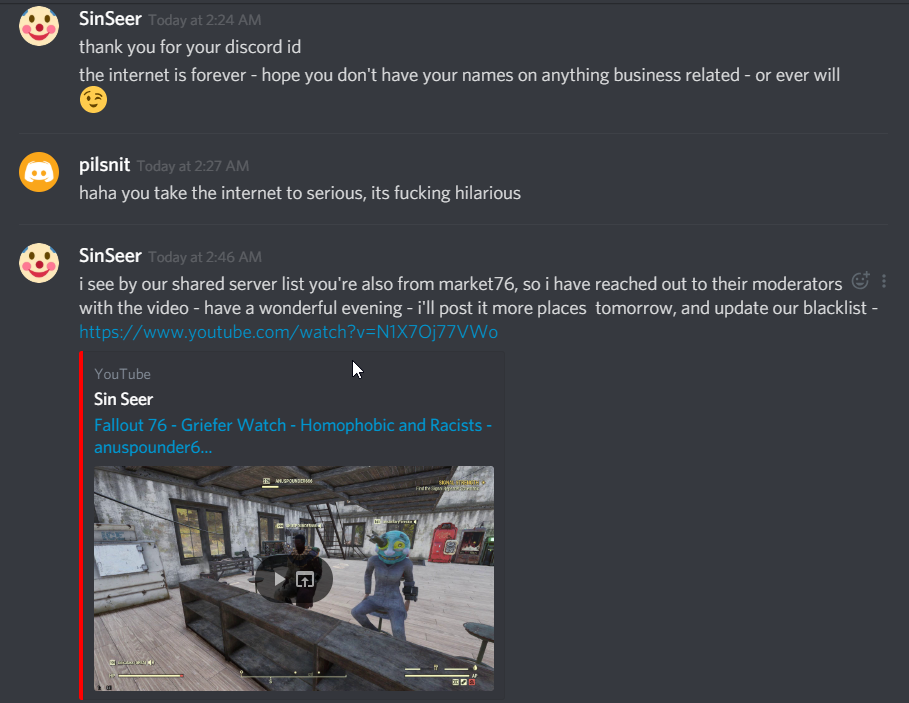 "ctang" – the other one from the above video – another of Sinister Hand's Followers: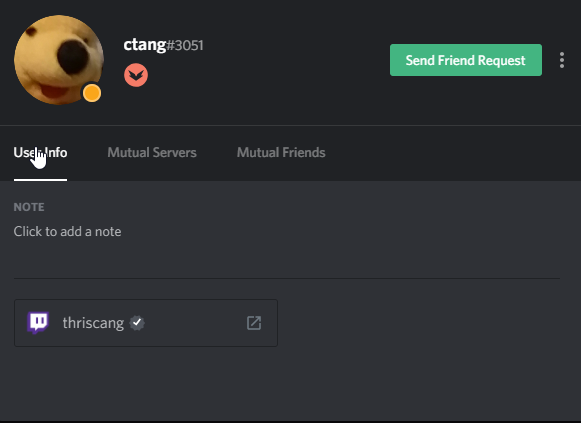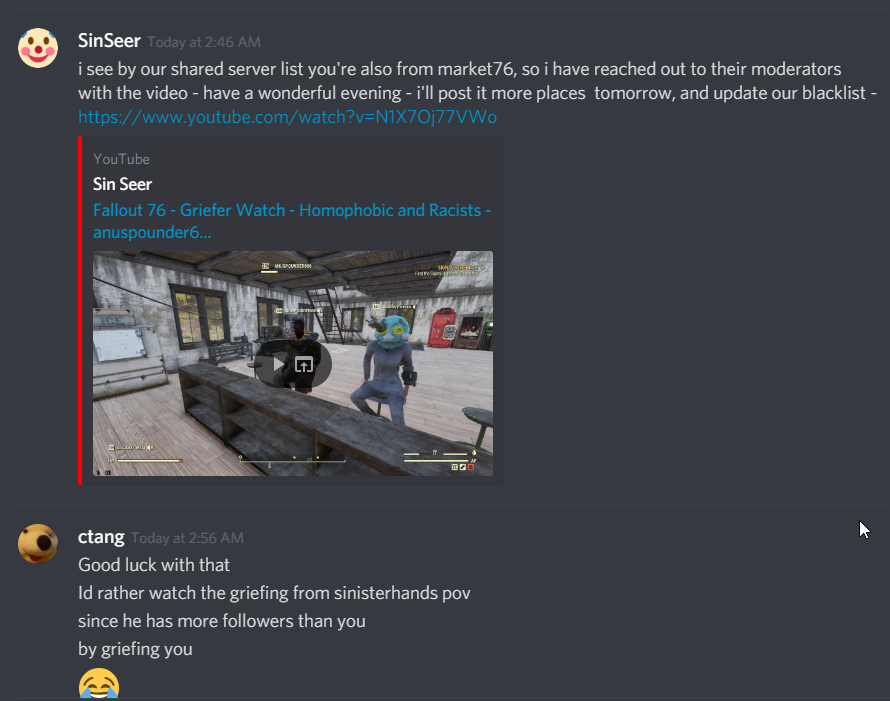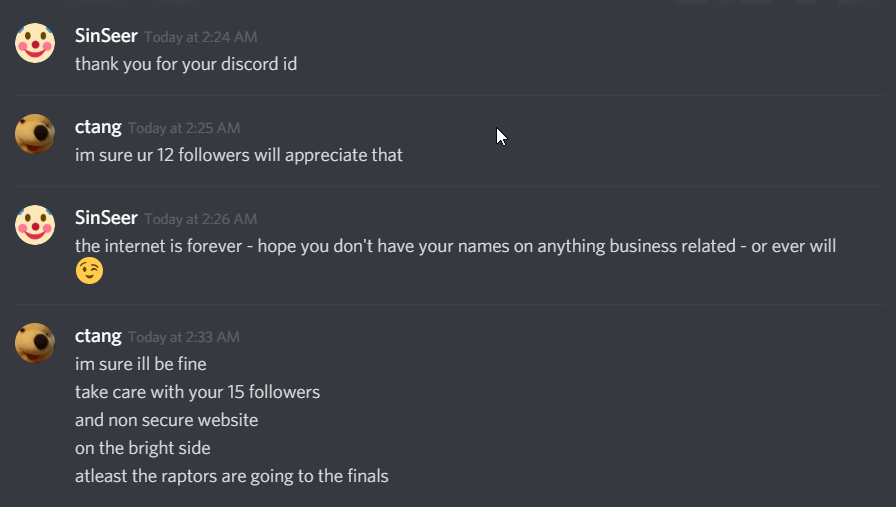 May 30, 2019
Fetor. admits He's not playing Fallout 76 for PVP, but simply to harass
May 31, 2019
Brootpwnz's Anti-Feminist and Pro-Trump Rant + CAMP with Bloodyeye1, Juaco_n
May 31, 2019
TheIrishAtheist calls me a jack-ass, condescending, and an elitist prick – #fallout76
Saying Goodbye to Savannah_Lion and Joelvn's Discord – they don't want me to ever mention I play in a community.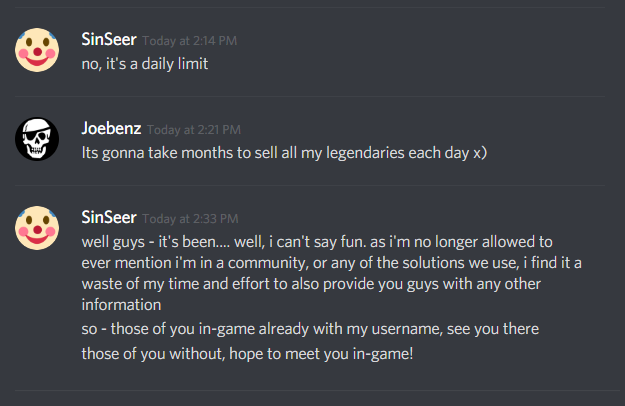 Joelvn and their discord – Server ID: 451421050400669724 – now run by Savannah_Lion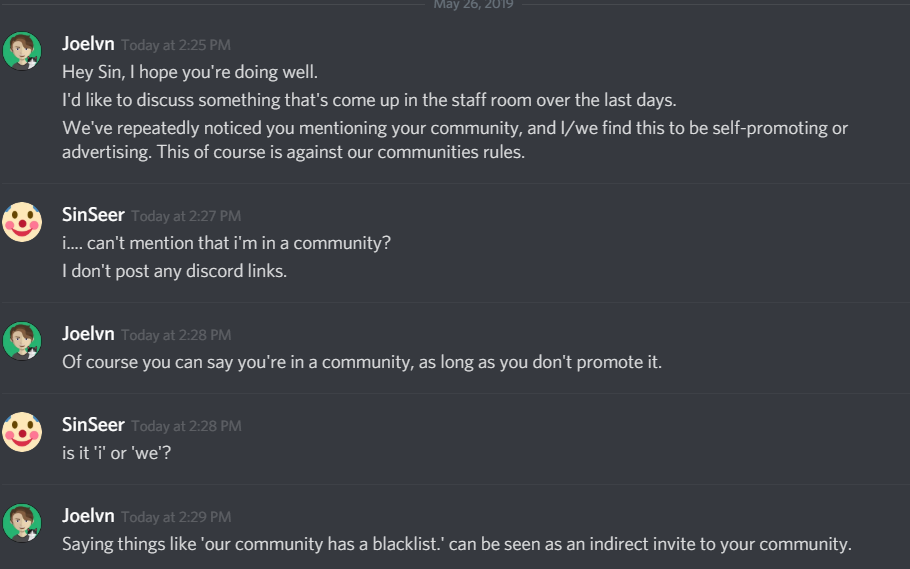 :